Services
Software Development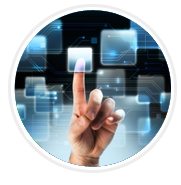 CMPS as a technology services company can build, deploy and maintain a variety of scalable technology solutions for a variety of businesses. We develop systems and software that allow your business to be dynamic and flexible in a way that allows you to compete in this highly competitive and high performance businesses world.
Software development for your business performance and future scalability, will implement a wide degree of competitiveness into your organization and companies' future growth. CMPS provides feasibility information of your project before starting with the actual development.
Our prototyping approach mitigates early risk factors, reduces time-to-market, and provides concept viability for partners and investors.
Mobile Application Development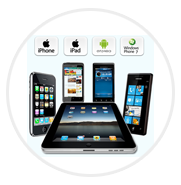 Companies and organizations worldwide are implementing enterprise mobile business solutions to accelerate business cycles, increase productivity & reduce operating costs. Mobile wireless devices and communications are delivering the most radical changes to information collection and distribution technology.
It is now an essential component of a real-time enterprise strategy. Innovative mobile devices are helping organizations to enable new, more efficient business processes. A wide range of wireless devices are available, but many businesses encounter constraints like small screen size, limited memory, reduced battery backup, and limited technology support. CMPS provide high value mobile computing solutions to derive maximum business value.
CMPS has assisted large business enterprises in developing and deploying mobile applications across many industries, including FMCG, Agro, Books & Stationeries, Paints and many more. CMPS Mobile Practice has developed solutions for customer service field support, sales tracking & support, attendance tracking, expense tracking, payments & collection and many more.
As a part of empowering a mobile enterprise, we integrate mobile applications with our customers' existing applications and databases. Our customers have realized significant cost and time efficiency by retrieving information in real-time from the field.
Product Development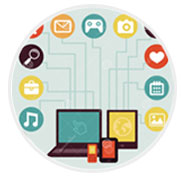 CMPS ability to provide Product Management Services is enhanced by rich experience in implementing business applications and tools, within end-user scenarios, for its customers. CMPS product development service covers the entire spectrum of activities. We get deeply involved from the start by understanding our client's business, their target customers, their competitors, and other business drivers and constraints.
We use this understanding to design and build a product that can exceed their market and user expectations. We understand that new products and new businesses go through a lot of flux in the initial stages. We have evolved processes and built a mindset in the company that is capable of handling such uncertainty.
If you have a great idea and domain expertise, CMPS is the perfect partner for you. We manage inter-dependent variables of product development like time, resources, and scope. We ensure a successful product release and allow you to focus on sales and marketing, and business development.
Professional Services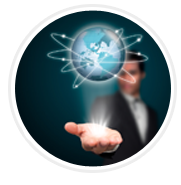 Often it is assumed that outside resources are cost-prohibitive. With long-term planning, we at CMPS can show you how to acquire the additional required resource without pushing budgets over the edge. An alternative is to establish a long-term relationship by interjecting resources periodically from our talent, so that resources are utilized only as needed. A long- term relationship enhances CMPS knowledge of your business.
It means a ready resource that you can use only when required - all this translates into - reduced staff and expenses incurred only when needed and where justified. Our experienced system analysts and programmers work on your project from its concept to even, beyond completion and implementation.
We will manage the project engagement to ensure that the project remains on its intended course and within budget. It's easy to offer deployable systems and install them, but we will remain with you to ensure that your technical personnel can successfully use the application.